Schubert's Impromptu in Eb Major, Op. 90, arr. Minsky Popolov



Artist's Statement for performance at The Governor's Conference on Arts and Technology: Circuits@nys, Arts in the Digital Age, March 28, 1998

In the late summer of 1997, I was reflecting on the uncertain future of the computer music pieces I've written over the years in the language HMSL, which runs on the Amiga computer. While my Amiga still faithfully runs my HMSL software, being committed to this platform has always been charged with worries concerning survival in a Microsoft Windows dominated world.

The Amiga runs its own and very elegant operating system, and I'd venture to say most Amiga owners, myself included, would consider it a downgrade for the Amiga OS to become Windows compatible! So, in this ghettoized, marginalized, and largely abandonned technological environment, I have been creating and continue to create new musical works with HMSL, trusting in the continued good health of the Amiga 3000 that sits on my desktop.

About this same time, I became very interested in the programming language Java. Created and distributed freely by Sun Microsystems, Java promises to be a platform-independent language. That is, a program written in Java is supposed to run identically on a number of platforms for which Java "virtual machines" have been written: Amiga, Windows 95, MacIntosh, Silicon Graphics, etc. The significance of this hit me very hard. Writing for a "virtual" computer that crosses platform boundaries is understandably attractive to a software designer who has seen his favorite "real" computer gradually squeezed out of the mainstream market.

In September of 1997, I began porting HMSL to Java. As a kind of early test flight, I built my first Java/HMSL piece, which I am performing here at Circuits. Since the realization of this work, I have been collaborating with HMSL co-author Phil Burk on a complete port of HMSL to Java. Dubbed JMSL, this new computer music environment will offer the tools to create arbitrarily complex multi-user musical environments, using the Internet as a network, as well as non-networked, stand-alone works like the Impromptu performed here. Under JMSL, which because of its Java roots is both platform-independent and Web-capable, the hardware distinctions separating computer musicians into technological camps will mean as little as the political and geographical boundaries separating them.

- Nick Didkovsky

Notes on the piece
Schubert's Impromptu in Eb Major, Op. 90, arr. Minsky Popolov is a live computer music performance which transfigures Schubert's Impromptu using realtime statistical techniques.

The original Schubert composition was prerecorded to hard disk by piano virtuoso Evelyne Luest. Didkovsky's software examines this performance in detail and extracts statistical contours which effectively model the piece. With the user interface shown below, Didkovsky can morph back and forth between these derived statistics and new statistics he creates in real time. The result is a rendition of the Impromptu that shifts between faithfully performed passages and radical distortions.

Tonight, Evelyne Luest will first perform the Impromptu live in its original form, followed by the electronically transfigured version performed by Didkovsky.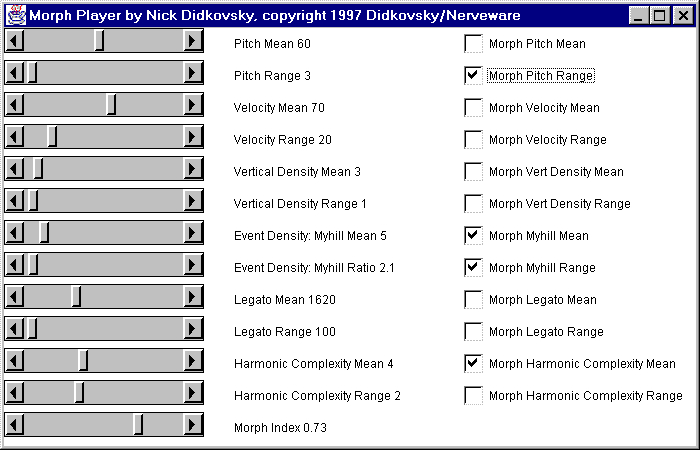 Biography
Nick Didkovsky is a guitarist, composer, and computer music programmer. In 1983, Didkovsky founded the avant-rock septet Doctor Nerve. He presently resides in New York City, where he composes for Doctor Nerve, the Fred Frith Guitar Quartet, the Bang On A Can All-Stars, and others. Didkovsky has received commissioning grants from Meet the Composer, The Mary Flagler Cary Charitable Trust, Steven Schick & Maya Beiser Duo, and The Jerome Foundation.

Evelyne Luest is a piano virtuoso and leader of The Eberli Ensemble. An active soloist and chamber music freelancer around New York, Luest is committed to passionate interpretations of classical and new works, covering ground from Schubert to Enescu to Kernis, in concert and on record. The Eberli Ensemble performs newly commissioned works as well as pieces from the classical repertoire. The group has toured the United States on a number of occasions, and is preparing for a European tour.


---
Related links
Java Music Specification Language
Java Plays Schubert Press Release
The Myhill Distribution
Hierarchical Music Specification Language (HMSL)
Real Audio Archive ("Arts Festival") of a performance at circuits@nys conference (starts 20 minutes into archive)

---
Contact: Nick Didkovsky/Punos Music
Tel (212) 369-1733, Fax (212) 996-4214
E-Mail: didkovn@mail.rockefeller.edu
Home